This deep green vegetable has sturdy stems that are sweet and the leaves have a hint of bitterness. They remind me of our broccolini. In Cantonese, this is gai lan and in mandarin it is jie lan. I recommend you try this and you will be pleasantly surprised at its versatility. Gai lan goes well with spicy flavours so I tend to blanch first and then stir fry with ginger or garlic.
GAI LAN WITH GINGER, GARLIC & RED CHILLI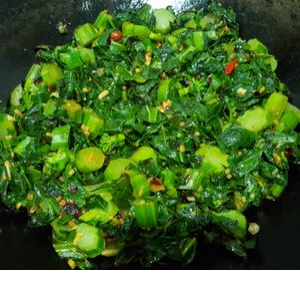 I do this with choy sum as well as with young new season gai lan.
INGREDIENTS
A large bunch of gai lan or choy sum (300-350 grams)
2-3 tablespoons vegetable oil
2-3 finely chopped fresh red chilli
½ thumb ginger, peeled and finely chopped
3 garlic cloves, peeled and finely chopped
1 teaspoon sesame oil
Salt to taste
METHOD
Wash and trim the greens. If needed peel the lower ends of the stalks.
Bring a large soup or stock pot of water to the boil. Add some salt and a small dash of oil. Add the greens and blanch them for a minute. Drain the water and refresh immediately under the cold tap. Squeeze out as much water as possible.
Chop the greens evenly. Heat a dry wok over a high heat. Add the greens and stir to release any excess water as steam. As the gai lan loses its water, add the finely chopped red chilli and a good pinch or two of salt. Continue to stir until the surface of the wok is no longer moist and the steam is rising more slowly. Remove from wok and set aside.
Wipe the wok with some cooking oil, then add a tablespoon of oil in to the wok. Heat over a high heat and when the oil is smoking, add the ginger and garlic. Stir fry briefly, add the gai lan. Stir fry to combine, seasoning with more salt if needed. When everything is hot, remove from heat and stir in the sesame oil. Serve hot as a side dish or an accompaniment to a Chinese meal.
GAI LAN IN A GINGER SAUCE
INGREDIENTS
A bunch of gai lan (300-350 grams)
3-4 tablespoons vegetable oil
7 centimetres of ginger, peeled and finely chopped
1 tablespoon Shaoxing wine
1 teaspoon sugar
METHOD
Blanch the gai lan as mentioned in the above recipe.
Add oil to a well-seasoned wok over a high heat, swirl the oil around and sizzle briefly until you can smell the ginger. Splash in the Shaoxing wine and sugar. Add the broccoli and stir fry, adding salt to taste, until it is piping hot.
Remove the stems from the wok and lay them neatly on a serving dish. Pour the sauce over the broccoli and serve.