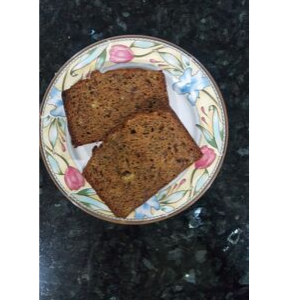 Banana bread elevates ordinary breakfast to something special especially if it's toasted and slathered with super crunchy peanut butter. This is a gluten free recipe and I used buckwheat flour and rice flour instead of a readymade gluten free mix.
INGREDIENTS
½ cup sunflower oil
½ cup brown sugar
2 teaspoons cinnamon powder
400 grams over-ripe bananas (4 small)
1 cup buckwheat flour
½ cup rice flour
1 teaspoon baking soda
½ cup LSA powder
METHOD
Preheat oven to 160 degrees Celsius. Grease a 9 inches loaf tin.
Place eggs, sugar and oil in a bowl and beat with an electric mixer until pale and creamy (about 3 minutes on high).
Add the bananas and beat until well combined.
In another bowl, mix together the buckwheat flour, rice flour, LSA powder, baking soda and cinnamon powder. Add this to the banana mixture and stir until combined.
Pour mixture into the prepared tin. Bake for 45 – 50 minutes. Increase oven temperature to 180 degrees Celsius and bake for a further 10 -15 minutes or until a skewer comes out clean. Allow to cool in the tin for 10 -15 minutes before turning out onto a wire cooling rack.