This deep green vegetable has sturdy stems that are sweet and the leaves have a hint of bitterness. They remind me of our broccolini. In Cantonese, this is gai lan and in mandarin it is jie lan. I recommend you try this and you will be pleasantly surprised at its versatility. Gai lan goes well with spicy flavours so I tend to blanch first and then stir fry with ginger or garlic.
GAI LAN WITH GINGER, GARLIC & RED CHILLI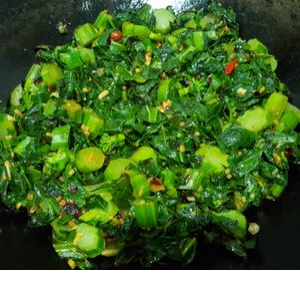 I do this with choy sum as well as with young new season gai lan.
INGREDIENTS
A large bunch of gai lan or choy sum (300-350 grams)
2-3 tablespoons vegetable oil