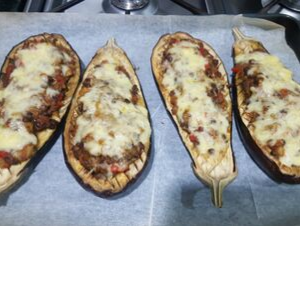 This is my vegetarian take – the lamb version is popular in Spain as well as in Greece. You can make it vegan by using vegan cheese.
INGREDIENTS
2 eggplants, each weighing about 250 grams
3 tablespoons extra virgin olive oil
½ red pepper, finely diced
1 shallot, finely diced
1 garlic clove, peeled and finely chopped
2 teaspoons cumin seeds
2 teaspoons coriander seeds
Pinch of hot chilli flakes
1 x 400 grams tin of lentils, drained
6 tablespoons tomato sauce
100 grams Gruyere cheese, coarsely grated
Salt to taste
Freshly ground pepper
For the tomato sauce:
1 tablespoon extra-virgin olive oil
1 small onion, peeled and chopped
2 cloves garlic, peeled and chopped
50ml red wine
1 teaspoon tomato paste
300 grams Italian peeled tomatoes
50ml water
½ teaspoon hot paprika
Pinch of cinnamon
Pinch of chilli flakes
METHOD
Heat a small sauce pan with one tablespoon of olive oil. When hot, fry the onion and garlic for three minutes. Turn the heat up to high and pour the wine. When the wine is nearly evaporated, reduce heat to medium and add the tomato paste along with the paprika, powdered cinnamon and chilli flakes. Mix to combine. Add the remaining ingredients for the sauce, cover with a lid and let it simmer gently for 20 minutes. The sauce should be thick more like a puree. Using a stick blender or immersion blender, blitz the sauce and set aside.
In a small sauce pan toast the coriander and cumin seeds till you get the fragrance. Let it cool and pound in a mortar and pestle.
Preheat oven to 200 degrees Celsius. Cut each eggplant lengthways through the stalk. Use a short blade utility knife, score the flesh in a tight criss-cross pattern, taking the knife through the flesh down to the skin. Take care not to cut through the skin. Place them side by side on a lined baking tray. Drizzle each half with one and a half teaspoons of olive oil. Season well with salt and bake for 30 minutes or until the flesh is soft and tender but not browned.
While the eggplants are in the oven, prepare the filling. Heat the remaining oil in a medium sized sauté pan and fry the shallot, garlic, red pepper for three minutes. Add the spices along with the drained lentils and six to seven tablespoons of the tomato sauce. Don't be tempted to add the whole lot as it would make your eggplants watery. Mix gently as you don't want it all to turn to mush. Adjust seasoning and once warmed through remove from heat and set aside.
Remove the eggplants from oven and increase the temperature to 220 degrees Celsius. Using a dessertspoon, carefully scoop most of the flesh out of the baked eggplant halves, leaving the skins with a layer of flesh about 1 cm thick. Stir the flesh into the lentil mixture with salt and pepper to taste. Spoon the mixture into the shell and sprinkle with grated cheese. Bake for 9-10 minutes until golden brown. Serve as a side dish or as a main with a crunchy leaf salad. Serves 2 – 4.