Thiyya Gavallu literally translate to sweet shells. Store bought ones pale in comparison to homemade ones. This is an Andhra sweet and is like a sugar dipped dough nut. My grandmother used to make them and I have her shaping device but if you don't have any such contraption, you can use the back of a fork.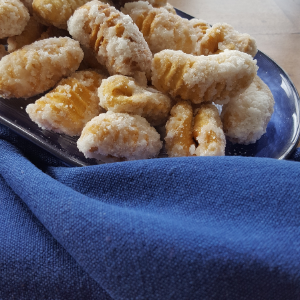 INGREDIENTS
2 cups all-purpose flour or standard flour
2 tablespoons ghee
Oil to fry
Pinch of salt
1 cup sugar
2 tablespoons water
METHOD
Add the ghee to the flour along with a pinch of salt and rub it in with your fingertips as you would when making pastry. In fact, the flour resembles the makings of a pastry at the end. Add about half a cup of water (little at a time) to make a hard dough. Knead well and rest the dough for 15-20 minutes.
Divide the dough into four quarters. Cover the rest while you work with each quarter. Have a large platter on hand to lay your shells. Roll a long cylinder with the dough and using a knife, cut into 10 or 11 equal portions. Use the shaping device or the back of a fork to shape little shells. Take each cut portion on to the back of the fork and flick it away from you with your thumb. Rest on the platter while you work with the remaining dough. You will have about 40 – 42 medium sized ones. You can make smaller ones if you wish so you will have more shells!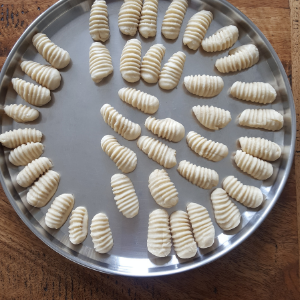 Deep fry 6-7 at a time in hot oil on medium heat for 7-8 minutes. Remove them with a slotted spoon. You will get very hard shells if you fry too fast.
Add sugar to a saucepan along with 1-2 tablespoons water and place on heat. Bring the sugar syrup to a two string or soft ball consistency (if you have a sugar thermometer, then you'd be looking for a temperature range of 112-116 degrees Celsius). Toss the fried shells into sugar syrup and mix well. Store in an air tight container for a couple of days. Makes 50 small sized ones or about 40 largish.