I learnt to make this brittle from my friend Rachana. I had tasted it more than a year ago and when I asked for the recipe, she said she eye balls all the ingredients, so she needs to come over to my place and demonstrate. We did just that a couple of weeks back. In India, brittle is called chikki and there are family variations. Sesame seed and peanut brittle are most common. Chikki is made with jaggery and an easy substitute would be muscavado sugar.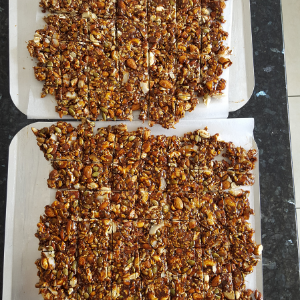 This mixed nut version uses edible gum called gond or gaund or gondh. The gum is dried resin of axle wood tree (type of Acacia – the botanical name is Anogeissus latifolia) and is believed to be a wonderful warming food according to Ayurveda.
Copra is dried coconut kernel – commonly sold in Indian supermarkets in the half shell or uncut as a whole.
INGREDIENTS
300g cashew nuts
350g almonds
150g pumpkin kernels
200g dried copra
75g sesame seeds
50g sunflower seeds
1 tablespoon pepper
1 teaspoon fennel seeds
½ teaspoon ajwain (carom seeds)
32g edible gum or gond
6 tablespoons ghee
750g good quality jaggery
METHOD
Preheat oven to 150 degrees Celsius. Line a large baking tray with parchment paper and spread the cashew nuts and almonds, making sure to keep them separate. Roast in oven for 25 – 30 minutes until they are well roasted and crisp. Once cool, cut or process in the food processor so they are roughly chopped.
Dry roast the sesame seeds. Place the pumpkin kernels in a microwave safe dish and microwave on high for 30 seconds intervals until they are roasted. May take a couple of minutes based on your microwave wattage. Finely slice the copra and dry roast in a pan.
Prepare two large baking sheet pans by lining them with baking paper. Have a large rolling pin handy.
In a large non-stick cooking pot, dry roast the spices – pepper, fennel seeds and ajwain. Pound coarsely and set aside.
Heat four tablespoons of ghee and fry the edible gum in three batches until it pops.
Put the jaggery in the pot along with the remaining two tablespoons of ghee. Melt the jaggery while stirring continuously. Have a small bowl with cold water handy to test the doneness of the syrup. You have to get the jaggery to a hard ball consistency. This means if you drop the syrup in water, it turns hard immediately.
Once the jaggery syrup is ready, mix in all the prepared nuts, spices and edible gum. Mix well and pour onto prepared sheet pan. Flatten out using a rolling pin. Use a pizza cutter to cut the chikki into bite sized pieces. Store in an airtight container.