Have you ever wondered where flat breads originated from? To cut a long story short, I will just attribute their origin to Egypt. Isn't it remarkable that over the centuries they have been morphed and now several countries have their versions of flat breads? In India, we have specific names – chapati, paratha, kulcha, puri, naan , phulka – they are all flat breads but prepared differently.
Just a word about how much water to add. In my recipe, please note it is approximate as the amount of water needed depends on the flour and humidity in your location. Add a little at a time, that way you will have the right consistency for the dough. When you are making them ahead of time, stack them one on top of the other, wrap in foil and reheat in a warm oven.
This is affectionately referred to as "breakfast of champions". In Punjab, people tend to have aloo paratha with some natural yoghurt on the side for breakfast. I prefer to make aloo paratha for lunch and serve with a simple cucumber raita.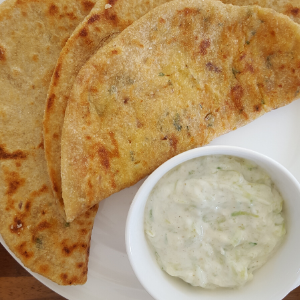 INGREDIENTS
400g atta (special flour you get from an Indian grocery store)
400g potatoes
2 tablespoons finely chopped coriander leaves
50g shallot, finely chopped
½ -1 teaspoon chilli powder
Salt to taste
Rice flour for dusting
Vegetable oil or ghee to fry the parathas
METHOD
Place flour in a bowl. Season with a couple of generous pinches of salt. Have a cup of warm water on hand. Make a well in the centre. Pour the water 50mls at a time and start mixing using your fingers. You may not need the full cup of water so advisable to add a little at a time. When the flour changes to dough, knead well for a couple of minutes. The dough should be firm but relatively pliable. Make a ball, cover with a tea towel and allow to rest for half an hour or so.
Boil the potatoes in their skin. Let cool and discard skins. Finely grate potatoes. Mix in the coriander leaves, shallots, salt and chilli powder. Divide the potato into eight portions.
Divide the dough into eight portions. Work with one portion at a time. Using a rolling pin, roll out circles of about 12 centimetres in diameter. (You can use the rice flour to dust to prevent sticking.) Put half a teaspoon of oil or ghee in the centre of the circle and smear it along the surface of the circle. Place a portion of the potato mix in the centre of the circle. Fold over to cover and make a ball. Roll again lightly to make a circle of about 16 -18 centimetres in diameter.
Heat a fry pan or flat pancake pan. Gently lift the paratha off your work surface and slide into the fry pan. Spoon a teaspoon of oil or ghee all around. Use your finger tips to turn the paratha so it cooks evenly. Black spots appear after about two or two and a half minutes and you want them evenly spaced to show that your paratha is cooking evenly. Flip it and cook the other side for a couple of minutes until done. Repeat with the remaining portions until all parathas are cooked.
Serve hot with plain natural yoghurt and pickle or raita. Serves 4.