Have you ever wondered where flat breads originated from? To cut a long story short, I will just attribute their origin to Egypt. Isn't it remarkable that over the centuries they have been morphed and now several countries have their versions of flat breads? In India, we have specific names – chapati, paratha, kulcha, puri, naan , phulka – they are all flat breads but prepared differently.
Just a word about how much water to add. In my recipe, please note it is approximate as the amount of water needed depends on the flour and humidity in your location. Add a little at a time, that way you will have the right consistency for the dough. When you are making them ahead of time, stack them one on top of the other, wrap in foil and reheat in a warm oven.
This is affectionately referred to as "breakfast of champions". In Punjab, people tend to have aloo paratha with some natural yoghurt on the side for breakfast. I prefer to make aloo paratha for lunch and serve with a simple cucumber raita.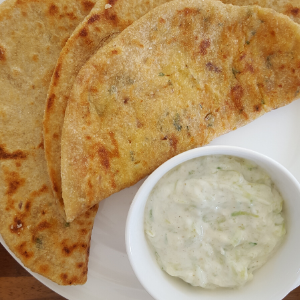 INGREDIENTS
400g atta (special flour you get from an Indian grocery store)
400g potatoes
2 tablespoons finely chopped coriander leaves
50g shallot, finely chopped
½ -1 teaspoon chilli powder