These quesadillas are great at breakfast, lunch or brunch. They are so satisfying and I bet it will become a favourite for you as well. These are made with wheat flour tortillas and as a guide, it is one egg per one tortilla. These are best eaten straight out of the pan, so the maker gets to eat last!
My son made these for me for lunch a few months back and I just loved them. Here is his recipe.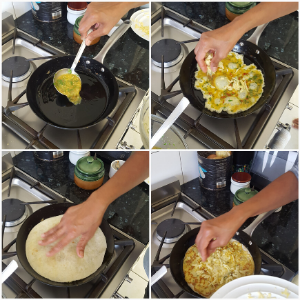 INGREDIENTS
8 eggs
2-3 jalapenos, finely chopped
50g red onion, finely chopped
½ cup of finely chopped coriander stems and leaves
200g tasty or gruyere cheese, grated
8 wheat flour tortillas
8 teaspoons vegetable oil
Salt to taste
METHOD
Whisk the eggs in a large bowl. Mix in the onions, coriander leaves and jalapenos. Season with salt.
Heat a fry pan roughly the size of your tortilla. Add a teaspoon of oil and swerve the pan so the surface is well oiled.
Pour a ladle of the egg mixture and tilt the pan so entire surface is covered. Sprinkle a tablespoon of cheese and press down the tortilla. Let cook for a minute or minute and a half and turn it over with a large enough spatula.
Sprinkle another tablespoon of cheese on the tortilla. Cook for another minute or ninety seconds. Fold and serve immediately. Repeat until all tortillas have been cooked this way. Serves 4.