As long as you have the basics you can build tacos with just about anything you fancy. My vegan tacos are quite easy to prepare and are absolutely delicious.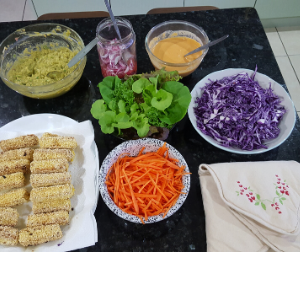 INGREDIENTS
500 grams firm tofu
200 grams coarse polenta for dusting
90 grams chick pea flour
½ teaspoon chilli powder
½ teaspoon dried oregano
½ teaspoon mild paprika
1 teaspoon cumin seed powder
Oil for shallow frying
FOR THE CREAMY CHILLI SAUCE
100 grams cashew nut pieces soaked in hot water from the tap for 15 minutes
1-2 chipotle peppers (I used the tinned ones)
2 small shallots coarsely chopped
1 garlic coarsely chopped
TO SERVE
Salad leaves
Finely shredded red cabbage
Julienned carrot
12 corn tortillas
METHOD
Weigh down the tofu for half to an hour prior to requirement. I wrapped them in a light muslin cloth and used a wooden chopping board.
Cut the weighed down tofu into sticks about a centimetre wide and 6-7 centimetres long.
Mix all the herbs and spices with the chick pea flour. Add enough water to form a thickish batter so it can coat the tofu.
Roll the batter coated tofu sticks in the polenta and fry till crispy and golden. Drain well on kitchen paper.
For the creamy chilli sauce, put the cashew nut pieces along with other ingredients in a food processor and blend to a sauce consistency. If too thick, add a little hot water to get desired consistency.
Lay out all accompaniments for tacos on table and let people assemble their own tacos.
Serves 4.