Chennai, Gateway to South India, is the fourth largest city in India with an approximate population of 9 million people. The city and the greater region has served as an important economic, military and cultural centre for many centuries. Chennai is the state capital of Tamil Nadu and Tamil is the official language here. Tamilians (people belonging to the State of Tamil Nadu) are very parochial and as a visitor it could be frustrating that most of the signs are only in Tamil. Tamilians stand tall and proud as true custodians of their language, culture and customs.
Chennai and Christianity
Chennai has not only welcomed traders from Portugal, France and Britain but also St Thomas, one of the 12 Apostles of Jesus Christ came and died in Chennai around 52 CE. In fact, it is widely accepted that he spread Christianity in India. The National Shrine of St. Thomas is at San Thome cathedral.
Chennai and Hinduism
Chennai and suburbs have more than 600 Hindu temples. One of the best known is the Kapaleshwara Temple, built in the 8th century and it has remained an important pilgrimage destination for over a thousand years. It is considered to be one of the finest examples of Dravidian architecture, and its towering spire is lined with hundreds of colourful figures telling stories from Hindu mythology.
A more modern faith-based attraction is the Theosophical Society located in Adyar. The garden has a banyan tree said to be 450 years old and possibly one of the oldest in the country.
Chennai Architecture and other places of interest
Chennai is not all about places of worship – the architecture is unique and lots has changed since I worked here in the mid 80's. The British East India Company built Fort George in the 17th century, and today, this historic fortification serves as a museum documenting the region's heritage. The Ripon buildings built in neoclassical style serves as the City Council's offices. Chennai High Court is a classic example of the Indo Gothic style. What's also worth visiting is the snake park in Guindy boasting some thirty odd reptile species on display.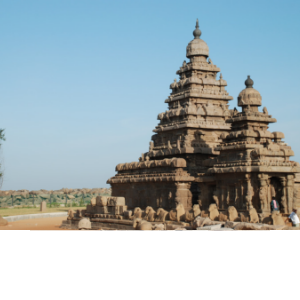 MAMALLAPURAM
Another place worth visiting is Mahabalipuram or Mamallapuram, a nearby port dating back to the 7th century. Here, you can see inspiring structures like the Five Rathas, a group of monolithic structures carved from granite, and the Shore Temple, a scenic destination perched along the beach near the beautiful Bay of Bengal.
AUROVILLE
Continuing on a 100 kilometres south from Mamallapuram on the East Coast Road is the township of Auroville. Auroville's purpose is to realise human unity. To build an ideal society, an ideal city. It consists of an international community spread over an area of 20 square kilometres set amidst idyllic rural ambiance. The township is endorsed by UNESCO and supported by Government of India. We were there for just half a day but you can stay here for a few days to experience what it is like to live here. Auroville is only 10 kilometres away from Puducherry, the once French occupied part of India. The street names are a constant reminder of this.