Cambodia has awe inspiring temples, a kingdom where the ancient and modern amalgamate well to give you a truly wondrous experience. For more than 2,000 years, what was to become present day Cambodia absorbed influences from India, passing them on to other Southeast Asian civilisations that are now Thailand and Laos.
Contemporary Cambodia is more than its temples, and returning to this country after nearly 8 years, I was pleasantly surprised by all the development and progress. Chaotic yet charismatic is how I would describe the capital Phnom Penh. Totally revitalised as a city and the promenade area with its myriad dining options is a vast improvement. Second city Siem Reap, with cosmopolitan cafes and a diverse nightlife, is as much a destination as the nearby iconic temples. And up-and-coming Battambang, reminiscent of Siem Reap before the advent of mass tourism, charms with graceful French architecture and a thriving contemporary art scene.
Here are my top 5 reasons why you should plan a trip to Cambodia:
TEMPLES – a country with nearly 4000 ancient temples.
ANGKOR WAT
The mother temple that puts all others in the shade, with epic bas-reliefs and iconic apsaras (nymphs). The Cambodians are so proud of this, it is depicted on their flag.
TA PROHM
The temple where the film, Tomb Raider: Lara Croft, starring Angelina Jolie, was filmed. The iconic tree roots are locked in a muscular embrace with ancient stones.
ANGKOR THOM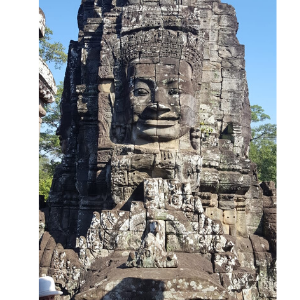 The great walled city of Angkor with the enigmatic faces of Bayon temple at its exact centre.
EPICUREAN EXPERIENCES
Squished between culinary heavyweights (Thai and Vietnamese) Khmer cuisine is overlooked. Cambodian cuisine is fresh and fragrant with a harmonious blend of hot, sweet and sour tastes. Some of the more famous dishes are Loc lac, Amok trey, Kampot Pepper crabs, Banana flower salad and Green mango salad.
If you are driving between Siem Reap and Phnom Penh, you can't miss Skun in the Kampong Cham region. The village is famous for one thing and that is tarantulas. Tarantulas are fried and packaged for sale to the daring!
WATER WAYS
TONLE SAP LAKE – Discover floating villages, bamboo skyscrapers, flooded forests and rare birdlife with a boat trip on Cambodia's Great Lake.
MEKONG – Cruising on a river boat down a section of the Mekong River is a fantastic way to explore the stunning rural landscapes in the area, and serves as an alternative point of entry to the usual cities and temples. For those who struggle with their sea legs, the Mekong highlights in Cambodia are in Kratie, Kompong Cham and Phnom Penh. In Kratie, you can take a local boat out early in the morning to go dolphin-spotting (most visitors are successful at seeing some).
UPCOUNTRY ADVENTURES
The South Coast is fringed by tropical islands dotted with the occasional fishing village. Sihanoukville is a province in southwest and famous for its beaches and mangrove jungles. Inland lie the Cardamom Mountains, part of a vast tropical wilderness providing a home to elusive wildlife. The northeast is a world unto itself, its wild and mountainous landscapes home to Cambodia's ethnic minorities and an abundance of natural attractions and wildlife.
THE CAMBODIAN SPIRIT
Despite having the eighth wonder of the world in its backyard, Cambodia's real treasure is its people. The Khmers have been to hell and back, struggling through years of bloodshed, poverty and political instability. Thanks to an unbreakable spirit and infectious optimism, they have prevailed with their smiles intact. A visit to Tuol Sleng genocide museum and the killing fields will leave you moved. You will come away with a measure of admiration and affection for the inhabitants of this enigmatic kingdom.
PRACTICAL TIPS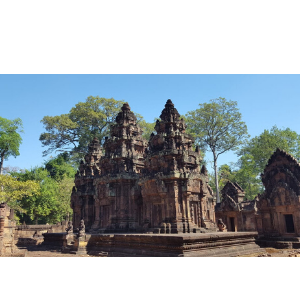 Cambodia is hot all though out the year. November through to April is the so called dry season.
Dress modestly. Cover your knees and shoulders when you are planning to visit the temples. Loose fitting, light cottons are the best.
NZ citizens can get a visa on arrival but helps to have a recent passport photo handy.
US dollars are widely accepted.
To get context and navigate through the cities, best to book an English speaking guide, before you leave home.