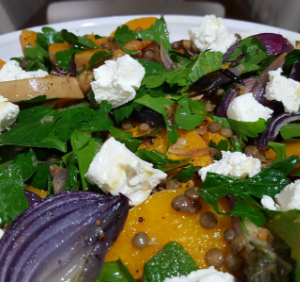 INGREDIENTS
750 grams butternut (pumpkin)
2 large red onions (300 grams)
100 grams Puy lentils
1 clove garlic, minced
Juice and rind of one large lemon
1 teaspoon harissa
3 tablespoons extra virgin olive oil
Salt to taste
Freshly ground pepper
12-14 large mint leaves rolled and thinly sliced
Handful of Italian parsley leaves roughly chopped
75 grams of cream cheese in a block
METHOD
Preheat oven to 200 degrees Celsius. Cut the butternut into half lengthways, remove the seeds and pith with a spoon. Cut into half centimetre wide half-moons (skin on). Peel and slice onions into eighths. Place butternut and onions in a large mixing bowl. Pour over 2 tablespoons of olive oil. Grind some pepper and sprinkle salt. Mix thoroughly so all the pieces are evenly coated. Spread them out onto a large oven tray. Roast in the oven for 25 -30 minutes until the edges are caramelized.
While the vegetables are roasting, in a separate sauce pan, wash and cook the Puy lentils for 20 -25 minutes. Once soft, drain the lentils completely before emptying them into a large serving bowl or platter. When the lentils are cool enough, zest the lemon and add the zest and lemon juice along with the garlic and harissa. Stir in a quarter teaspoon or so of salt and grind pepper. Mix thoroughly.
Once the vegetables are cool enough, gently mix them into the lentils along with the mint and parsley leaves. Dot the platter with the remaining olive oil. Top the salad with chunks of cream cheese. Serve at room temperature. Serves 4 as a side dish.