If ever I had to represent summer on a plate, this would be the dish I would create. This is a recipe that is a classic but evolved over time. Having said that it tastes different every time I make it, owing to seasonal changes.
I love the flavours and also what this dish stands for. For me, it is about summer vegetables, long evenings and barbecues. You can serve this with crusty bread for light dinner or serve it as a side dish with barbecued meats. Either way, it is super easy, delicious and vegan plus it adds to your vegetable intake for the day.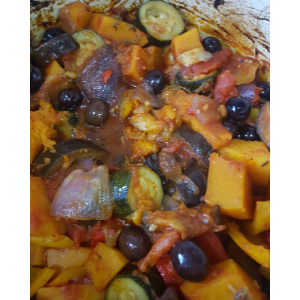 INGREDIENTS
400g butternut pumpkin, peeled, seeded and chopped
1 large red onion
3 zucchinis, chopped
2 peppers, 1 red and I yellow, cored, seeded and chopped
1 eggplant, diced
400g can Italian tomatoes, mashed
4 tablespoons tomato paste
½ cup extra virgin olive oil
4 cloves garlic, finely chopped
2 tablespoons fresh thyme leaves
1 teaspoon sugar
1 cup black olives
Salt and pepper to taste
100ml hot water
METHOD
Preheat oven to 200 degrees Celsius.
Put all the prepared vegetables (except the tomatoes, tomato paste and water) into a heavy, metal casserole.
Place over moderate heat. Stir fry until everything is heated through and coated with oil.
Season well with salt and pepper.
Add the remaining ingredients. Mix well. Cover tightly and bake for 1 hour.
Serve hot or warm. (Serves 6)