In the 90's we lived in Hungary for three years. There was definitely a culture shock for me and things were just moving towards Western standards. One image of Budapest that is strongly imprinted in my brain is braided garlic and paprika peppers being sold everywhere. The smell of freshly baked bread at all metro entrances is so inviting. I was younger in my culinary journey and didn't really appreciate the paprika nuances. How I would love to experience that again – sometimes you don't get a second chance and you have to make the most of every experience for what it is at any point in time.
Paprika chicken is a classic and my version is slightly modified. Hungarians use lard in their cooking extensively. I substituted lard with butter. I used to make this when my children were younger as it was flavourful and mild. In this version, I used hot as well as sweet smoked paprika.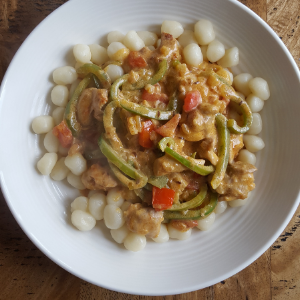 INGREDIENTS
400g boneless (skinless) chicken thighs, cut into bite sized pieces
100g onion, finely chopped
2 cloves garlic, finely chopped
1 medium sized green pepper, cored and sliced thinly
100g tomato, deseeded and diced
50g butter
2 teaspoons plain flour
1 and a half teaspoon sweet smoked paprika
½ to 1 teaspoon hot paprika (optional)
½ teaspoon caraway seeds
½ teaspoon ground white pepper
125g sour cream, whisked with a fork
Salt to taste
Potato gnocchi or spätzle to serve
METHOD
In a sauté pan, fry the caraway seeds, onions and garlic using half the butter on low heat for 5-6 minutes. Remove to a bowl and sprinkle a teaspoon of sweet paprika and the hot paprika if using. Mix well and set aside.
In the same pan, add the remaining butter and fry the chicken thighs on medium heat. Allow them to brown on one side and turn them over after five minutes. Add the flour and white pepper. Mix well so all the chicken pieces are coated in flour. Toss in the onion and make sure it is incorporated well. Season with salt and pour ¾ cup of water. Continue to stir so it does not get lumpy.
Allow to cook for a couple more minutes. Stir in the green pepper. Cook for a minute. Spoon the sour cream, stir well. Toss the diced tomatoes and sprinkle the remaining sweet paprika.
Serves 2