This is super simple and when served with some roast broccoli, this is a colourful and elegant dinner party dish.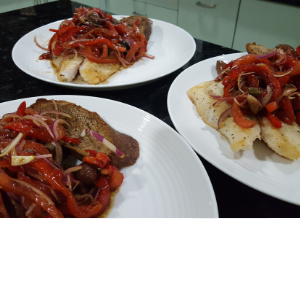 RED PEPPER SALAD
INGREDIENTS
2 large red peppers
2 medium sized tomatoes
1 medium sized red onion
12 Kalamata olives
2 tablespoons of capers
3 tablespoons extra virgin olive oil
3 tablespoons balsamic vinegar
½ teaspoon sugar
Salt to taste
Freshly ground black pepper
METHOD
Char grill the red peppers. I like to poke a fork into the red pepper stalk and put on the flame. Use the fork to turn around and it should take about 15-20 minutes for the pepper to be completely char grilled. Remove the fork and put them in a bowl and cover with a plate to create steam. Let them rest this way for ten minutes. When cool enough to handles, peel off the charred skin, wash under the tap and dry completely. Core the peppers, remove the pith and slice thinly. Place the sliced peppers in a glass bowl.
Make crosses on the top part of the tomatoes and place in bowl. Pour boiling water and after 45 seconds, remove tomatoes. Peel the skin off. Quarter the tomatoes and discard the seeds and pith. Slice thinly and place along with the sliced peppers.
Peel and slice the onion thinly and add to the bowl. Rinse the Kalamata olives and capers and add to bowl. Measure out the olive oil and balsamic vinegar along with salt and sugar into the bowl. Grind plenty of black pepper and mix well. Allow flavours to develop by allowing the salad to rest for half an hour before serving.
DORY FILLETS
INGREDIENTS
4 x 150 grams dory or butter fish fillets
1 tablespoon rice flour
Salt to taste
Freshly ground black pepper
4 tablespoons extra virgin olive oil
METHOD
Heat a heavy bottomed fry pan. ON a large platter, mix the rice flour with salt and freshly ground black pepper. Dust the fish with the seasoned flour. When pan is hot enough, add a tablespoon of the extra virgin olive oil. Cook one fillet at a time for about two minutes on one side and a minute to minute and a half on the second side. Serves four.
ASSEMBLY
I'd like to serve the fish fillets on sour dough bread. You can brush slices of sour dough bread and place under the grill of a hot grill or you can do it on the stove top in a pan. Take two slices of the bread and place the cooked fillet on top. Spoon the red pepper salad on top with some of the dressing dripping onto the fillet and bread. Serve and enjoy.