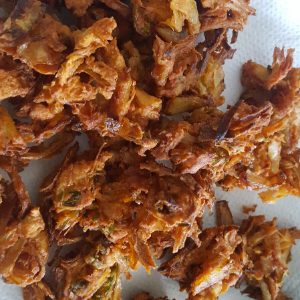 In northern India, these onion dumplings are called pakoras and in the southern regions they are called pakodis. In my opinion, pakoras have softer centres whereas pakodis are really crispy. It is a popular street snack in the South, where there is a stall around every street corner and the tired workers are drowning their tiffin of pakodis with hot masala chai. The smell of these dumplings being fried is equally tempting!
INGREDIENTS
1 cup besan or chick pea flour
¼ cup rice flour
300 grams onions, peeled and sliced finely
100 grams cashew pieces
4-6 green chillies, cut into 1cm pieces
5-6 sprigs of curry leaves (leaves only)
1 teaspoon Kashmiri chilli powder
Salt to taste
Oil for deep frying
METHOD
Heat oil for deep frying in a kadai or small wok or deep fryer.
Add a half teaspoon of salt to the onions and allow them to sit for ten minutes.
Put all the remaining ingredients in a large mixing bowl. Add the onions and using the moisture from the onions, mix the flours into a tight dough sort of a mixture. You can add a tablespoon or so of the hot oil.
When the oil is hot, use your fingers to drop clumps of this dough sort of mixture. Repeat a few batches at a time and do not overcrowd your wok or kadai. Use a slotted spoon to get the pakodis out and rest them on kitchen paper to blot off excess oil.
Serve hot.