I call these my King Arthur bread rolls as my recipe was inspired and adapted from the recipe collection of King Arthur Baking Company. I believe good things take time and while these rolls can't be whipped up in a jiffy, they are so delicious and definitely deserving of the time spent making them. They are incredibly soft with just the right amount of chew. Serve them up for lunch with a hearty soup and you will be a winner.
High grade flour or bread flour has a higher gluten content and this is first preference. I used atta (sourced from Indian grocery store or you can use finely ground wholemeal flour – the kind that does not have any bran or grain bits in the flour)
INGREDIENTS
241g high grade flour or bread flour
113g atta
43g oats
½ cup ground linseed or flax
2 and ½ teaspoons instant yeast
1 and ½ teaspoons salt
50g sunflower oil
1 large egg yolk, save the white for brushing on top of the rolls
2 tablespoons runny honey
57g oat milk or almond milk
170g to 198g lukewarm water – mine took 193g
METHOD
In a stand mixer bowl, combine all ingredients, mixing until a soft dough forms. Reserve some of the water and add as required. Knead dough at low speed for 6 minutes. The dough should bounce back when poked. It will look smooth and satiny.
Place dough in a greased bowl for 1 and a half hours until nearly doubled. Cover with a wet tea towel.
Gently deflate and divide into 12 pieces (about 70g each). Shape into a round rolls.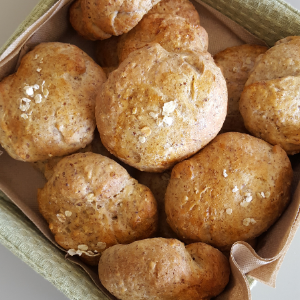 Place rolls on a lightly greased parchment lines baking sheet, cover with a wet tea towel and let rise for about 90 minutes, until puffy looking. Toward end of rise time, preheat oven to 180 degrees Celsius.
Beat the egg white with a fork. Remove cover for the rolls and just before placing in oven, brush the egg whites over the top surface. Sprinkle with oats or white flax seeds and bake for 21 -25 minutes until golden brown.
Makes 12 rolls.