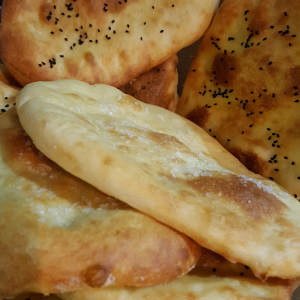 I realized I love baking bread. Something about working with the dough, proving it and so much excitement when it doubles in size. For me, it is a childlike wonder reflecting on the discovery of yeast or other leavening agents. I have only just started on my bread baking adventure and I hope to keep doing so I can perfect the art.
I adapted this recipe from Duncan Glendinning and Patrick Ryan's "Bread Revolution – Rise Up & Bake" cook book. I wanted to give a naan feel so I used nigella seeds, salt and garlic flakes but you can use any combinations you fancy. Special bread flour or 00 or high grade flour has a higher protein (gluten) content which is a staple in bread making. This is one recipe where it pays to weigh out all the ingredients precisely.
I made slightly small ones and I got 12 flat breads.
INGREDIENTS
500g Strong white bread flour (high grade flour)
10g fine sea salt
50g unsalted butter, softened
10g instant yeast
200ml milk
1 egg, lightly beaten
60ml olive oil
Semolina for dusting
50ml good quality extra virgin olive oil (for topping)
Flaky sea salt, nigella seeds, garlic flakes for topping
METHOD
Combine the flour and salt in a stand mixer bowl and rub in the butter with your fingertips until the mixture resembles fine breadcrumbs.
Whisk the yeast and milk in the measuring cup.
Make a well in the centre. Add the yeasted milk, egg and olive oil to the well and bring together with a spatula or with your hands. You need to have a soft and supple dough. If it is still very lumpy, add extra milk.
Fit the stand mixer and knead on low for two to three minutes and then medium high for 7-8 minutes (a total of 10 minutes). If you do not have a stand mixer, you need to turn the dough out onto a clean bench and knead for ten minutes. You need to achieve a windowpane effect. When you stretch the dough thinly, it should be able to stretch so much so that you can see light through it. If your dough is tearing easily, it is telling you it needs a couple more minutes kneading.
Put the dough into a lightly oiled bowl, cover with a damp cloth and leave to prove for 60 minutes or until the dough has doubled in size.
Turn the dough on to a clean surface and knock it back, then cut into 12 equal pieces (about 100g). Roll each piece into a ball and arrange on a floured baking tray, allowing enough room so that the rolls will not touch as they expand. Cover with a damp cloth and leave to prove for another 40 minutes.
Preheat oven to 240 degrees on fan setting and heat up a pizza stone. If you don't have a pizza stone, put your heaviest baking tray into the oven, bottom surface upwards.
Dust a clean surface with semolina. Form the flat breads by flattening a ball of dough slightly with the palm of your hand and using fingers work it, so it is evenly flattened into an oval shape about 5mm thick and 20cm in diameter. You can pull it lightly to even the shape. You can roll it with a rolling pin too.
Brush each flat bread with the extra virgin olive oil. Sprinkle the nigella seeds or salt or garlic flakes. Place on the pizza stone in the oven. They will take 5-6 minutes to puff up and cook. You will need to cook them in several batches.
Flat breads can be eaten warm or cold. They also freeze well – you can bring them back to life with a couple of minutes in a warm oven.