This is perfect for a winter's day. The spices are warming and it is a creamy, hearty soup. It's the kind of soup you need to keep the winter ills away!!
You can use canned chick peas but somehow I prefer to use the dried ones. Use 2 x 400g cans of chick peas, drained and rinsed well. This recipe was inspired by Delia Smith's Winter Collection.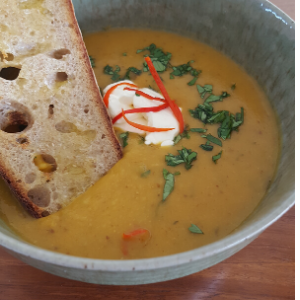 INGREDIENTS
225g dried chick peas, soaked overnight in twice their volume of cold water
50g extra virgin olive oil
1 tablespoon coriander seeds
1 tablespoon cumin seeds
6 cloves garlic, peeled and microplaned
2-3 red chillies, finely chopped
1 teaspoon turmeric
2-3 tablespoons lemon juice
Generous handful of coriander leaves and stalks, finely chopped
Salt to taste
For the garnish
1 mild red chilli, deseeded and cut into fine shreds
Crème fraiche or sour cream
Coriander leaves
METHOD
Rinse the chick peas thoroughly under cold tap water. Place them in a sauce pan with one and a half litres of boiling water. Simmer gently for an hour until they are tender and squashy. I used a pressure cooker to speed up the process.
Dry roast the coriander and cumin seeds in a small pre heated pan for 2-3 minutes. When they are barely warm, crush to a powder in a mortar and pestle.
Measure out the oil into the pan, add the crushed spices along with chopped garlic and chillies. Cook over a low heat for five minutes. Stir in the turmeric before removing pan from heat.
Transfer chick peas to a liquidizer (Nutribullet). Add the fried spices along with the coriander leaves and blitz to a fine paste. You may need to do this in batches.
Return the soup to the sauce pan and bring it up to a gentle simmer. Season with salt and lemon juice.
When you are ready to eat, serve in warmed up bowls. Garnish with a swirl of crème fraiche, some coriander leaves and shreds of red chilli. Serves 4.