This is typical Malaysian street food and for best results you need to cook individual serves. I normally prepare the tofu and have all my ingredients portioned out and ready to go, so cooking becomes a coordinated effort and is a breeze.
I suggested using fresh rice noodles but you can also use dried rice noodles about 1cm wide. Cook them first in boiling water for 2 or 3 minutes (refer to instructions on the packet) and refresh them several times in cold water so they don't clump up together.
You can use any combination of protein – Chinese sausage, squid, prawns or just egg and tofu.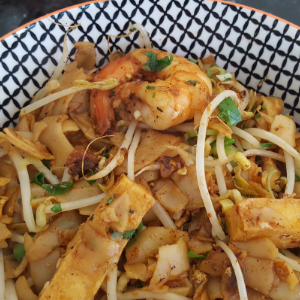 INGREDIENTS
90ml light soy sauce
45ml dark soy sauce
20ml oyster sauce
20ml fish sauce
2 teaspoons freshly ground pepper
1 tablespoon sugar
100g vegetable oil like canola
4 tablespoon chilli paste (store bought or use recipe below)
4 cloves garlic, finely chopped
20-24 large prawns
900 grams fresh rice noodles (steep them in hot water from tap for 15-20 minutes so the noodles separate out, strain and keep ready)
4 eggs, lightly beaten
1 x 300 gram packet of tofu sliced into strips or 1 cm squares
4 handfuls of bean sprouts
1 small bunch Chinese chives or spring onions, washed and roughly chopped
METHOD
Mix both soy sauces, oyster and fish sauce, sugar and pepper. Stir well until sugar dissolves.
Prepare the chilli paste (recipe below) and have it ready to go.
Heat the oil in a large wok over high heat. Fry the tofu in batches until golden and set aside. Leave about two tablespoons of oil and remove the rest to a bowl to use for cooking the later batches.
Fry minced garlic and chilli paste until fragrant. Then saute prawns. Add noodles to wok and quickly stir fry while adding spoonful's of the sauce ( use the equivalent of 3 tablespoons of sauce per batch). Once you are satisfied that the noodles are sufficiently fried, push noodles to a side to add some egg. After a minute, break up the egg and incorporate egg into the noodles. Finally add chopped chives, bean sprouts and the tofu pieces. Serve hot.
CHILLI PASTE
I used a combination of dried chillies from my pantry. It makes about 200 grams and stores in the fridge up to two weeks.
12 dried Indian chillies like Guntur
12 dried Kashmiri chillies
12 dried Szechwan chillies
1 tablespoon Chinkiang vinegar
1 teaspoon salt
1 teaspoon dark soy sauce
Wear gloves and remove seeds from the chillies. The easiest way is to cut the top off with scissors and pour the seeds into a bowl. Rinse in water and soak chillies in hot water from the kettle for two hours. Pour enough water so the chillies are barely drowned. Cover with a lid. Discard the soaking liquid. Using a food processor grind the chillies with the salt, vinegar and soy sauce to form a fine paste.