During lockdown, my daughter started her sourdough project and after a few trials and errors, her sourdough starter has been going strong now for a few months now. There is a regular stream of discard that comes with keeping a sourdough starter alive. This is not my own recipe but came across it in a Miele newsletter – I forgot to take note of the author!
These fritters are delicious – I served them for breakfast with some lemony Greek style yoghurt.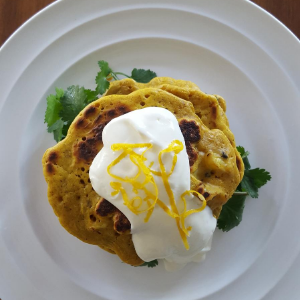 INGREDIENTS
1/2 head of cauliflower (about 400g)
2 tablespoons curry powder
2 tablespoons sunflower oil
2 eggs
220 ml milk
60 grams melted butter
180 grams flour
5 grams baking powder
2 grams salt
5 grams sugar
80 grams starter
To serve:
Grated zest from one small lemon
Coriander leaves
150ml Greek style yoghurt
METHOD
Chop cauliflower into small florets and cook in a fry pan with 2 tablespoons of sunflower oil until a rich coffee colour is evenly achieved.
Measure all dry ingredients straight into a large bowl.
Add milk and melted butter and mix straight away to avoid lumps. Then add starter, followed by eggs and mix until just combined.
Fold through the cooked cauliflower and curry powder.
Pan fry this batter in small batches on a pre heated non-stick skillet and serve straight away piping hot.
To serve: Place a sprig of coriander in between the fritters and top with Greek style yoghurt. Sprinkle the zest.
Makes 12 fritters