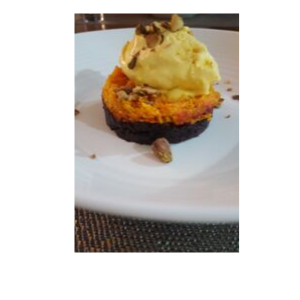 Indian desserts and sweets are quite intriguing as traditionally there is no dessert course as such and it is eaten alongside your meal. For festive occasions, when sweets are made and exchanged, they eat them as people would a slice or a fudge with tea or coffee. Just like the rest of Indian cuisine there are regional differences as well as cultural variations when it comes to sweet things.
Carrot halwa is very popular and each family has their own recipe. This is my mum's method and it works.
CARROT HALWA
INGREDIENTS
500 grams carrots, grated
1 litre full fat milk
1 cup sugar
4 tablespoons ghee
1 teaspoon of freshly ground cardamom powder
Toasted nuts like pistachios for garnish and texture
METHOD
Put the carrot, milk and sugar into a large, shallow heavy bottomed sauté pan. Stir periodically so it cooks evenly. The idea is that the milk evaporates and the solids condense and thicken to become fudge like. This could take 45 – 60 minutes. As the milk starts evaporating, add the ghee spoon by spoon. When it is all glossy and thick (separating out from the pan), then add the cardamom powder. Remove from heat but continue working the halwa for a couple of minutes. Pour it into a greased (with ghee) pie plate. Alternatively spoon the halwa into lightly greased 6-7cm cutters on individual plates. Smooth the surface to shape neatly, then carefully lift off the cutters.
NO CHURN ICECREAM
INGREDIENTS
1 tin (400grams) sweetened condensed milk
600ml double cream
½ teaspoon saffron strands
1 tablespoon warm milk
METHOD
Put the saffron strands in a small bowl and pour the tablespoon of warm milk. Let rest for ten minutes.
Gently warm the cream in a large saucepan. Do not boil the cream. When the cream is warm about 45 – 50 degrees Celsius, pour the saffron infusion. Mix well and let it cool completely and place in refrigerator.
When cold take it out and whip it to stiff peaks – do not over whip. Fold a third of the whipped cream into the condensed milk and when completely incorporated, fold in the rest of the cream until combined. Put in freezer safe container. Cover and freeze for 8-10 hours for setting.
To serve: Scoop out the halwa onto a plate. I poured mine into a pie plate initially and then used cutters as described for serving. Quenelle the ice-cream. Top with chopped nuts or you can use a combination of chopped and grated nuts. Cook's tips: You can infuse the cream the same way with other flavourings. You can use mint extract and green food colouring or cardamom or cinnamon or even turmeric and pepper