It has been nearly ten years now, but I have a great food memory of eating beetroot cured salmon in a pub in St Albans, England. It was delicious and always thought it to be complicated. Here is a step by step guide to preparing cured salmon and you realise it is so easy. You have to plan in advance as it takes 2 days to cure – you can serve it as a cold main on a hot summer's day or as an appetizer on rye bread with some pickles. I serve it with radish pickles and potato chokta.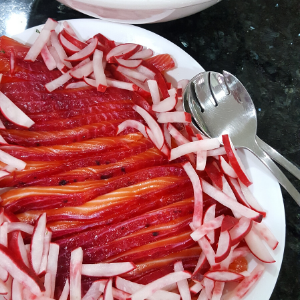 1kg boneless salmon fillet preferably the loin part
150g sea salt
½ cup sugar
½ cup brown sugar
2 teaspoons black peppercorns
2 teaspoons coriander seeds
2 teaspoons juniper berries
2 teaspoons fennel seeds
1 teaspoon red chilli flakes
2 teaspoons orange rind
150g beetroot, grated fine
METHOD
Pin bone the salmon and set aside. I use flat headed tweezers.
Using a mortar and pestle, crush the spices with the sea salt in batches. Combine with both the white and brown sugar.
Spread half the curing mix in the centre of a foil lines, rimmed baking sheet roughly the same size as the piece of salmon.
Place skin side down on curing mixture.
Sprinkle the orange rind evenly over the fish, followed by the grated beetroot. Cover with remaining curing mixture.
Cut another piece of foil roughly the same size as the previous one. Bring edges of foil up and over salmon. Crimp to enclose.
Place another baking sheet on top of salmon and weigh down with several large cans or a heavy pot. Chill, flipping fish half way through the two days.
To Serve
Rinse fish and pat dry. Place skin side down, on cutting board. Using your longest, sharpest knife and wiping down with a moist towel between slices, cut on a diagonal about 5-6mm thick leaving skin behind.
Serves 8 -10