The night market culture did not take off in India. However there are small eateries generally managed by three or four staff and serving fast food. Fast food ranges from samosas, frankies, pakodis, pani puri to dosas and vadas. The vendors do specialize in their offerings and there is no cross-over. The turnaround time and the efficiency is very interesting to observe.
Aloo bonda also called batata vada can be classed as fast food but I have elevated it to "fancy" by the way I serve it with a mint and coriander chutney and pickled radish.
Ingredients
600 grams potatoes boiled with skin on
1 onion finely chopped
3 cloves garlic peeled and coarsely chopped
5 centimetres piece of ginger peeled and coarsely chopped
1-2 green chillies coarsely chopped
50 grams cashew pieces
2 tablespoons chopped coriander leaves
2 tablespoons vegetable oil
1 teaspoon black mustard seeds
½ teaspoon turmeric powder
1 plus ½ cup besan or chick pea flour
¼ cup rice flour
1 teaspoon Kashmiri chilli powder
A pinch of baking soda
Salt to taste
Vegetable oil for deep frying
METHOD
Boil, cool peel and roughly mash the potatoes and keep aside. Make a paste with the ginger, garlic and green chillies in a mortar and pestle. Heat the 2 tablespoons oil in a saucepan. Fry the cashew pieces till golden brown and set aside. In the same oil, add the mustard seeds. When they start to pop, add the ginger, garlic and green chilli paste. Fry for a minute and add the turmeric powder along with the finely chopped onion. Fry until the onions are soft and stir in the mashed potato. Add salt to taste and allow to warm through for 3-5 minutes. Mix in the cashew pieces along with coriander leaves. When cool enough to handle, make 18 -20 balls with the potato mix.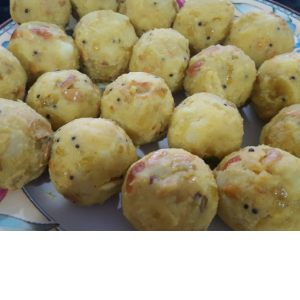 Prepare a thick batter using the chick pea flour, rice flour, chilli powder, salt and a pinch of baking soda. Make sure there are no lumps. Heat oil for deep frying in a deep fry pan (kadai) or saucepan. When the oil is hot enough, dip the prepared potato balls into the besan batter and deep fry till light golden brown. Remove and drain well on kitchen paper. Serve hot with green chutney and radish pickle. Serves 6 as a starter.
GREEN CHUTNEY
½ cup mint leaves washed and roughly chopped
1 cup coriander stems, roots and leaves washed and roughly chopped
2 green chillies, chopped
1 small onion, chopped
½ teaspoon cumin seed powder
Salt to taste
1 teaspoon sugar
1 -2 tablespoons lemon or lime juice
Puree all the ingredients except the lime or lemon juice. Then add the juice and stir well. Will keep in fridge for a day or two.
PICKLED TABLE RADISH
2-3 small pink table radishes
Salt to taste
A pinch of sugar
A big pinch of ajwain (available in Indian stores)
1-2 tablespoons of lemon juice or lime juice
1 teaspoon apple cider vinegar
Top and tail the radishes and julienne them. Place the julienned radishes along with the other ingredients in a bowl. Mix well and allow to rest for an hour before serving.