On days when you don't feel like cooking much but still want to serve up something healthy and filling, this soup is your answer. You can actually use any combination of root vegetables you have on hand but vegetables like kumara (sweet potato) and carrots make the soup luscious. This is a lovely creamy soup that is so satisfying.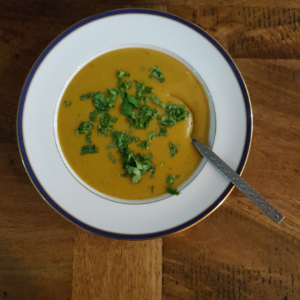 INGREDIENTS
200g onions, chopped
2 carrots, chopped
2 potatoes, chopped
400g orange kumara
1 parsnip, chopped
4-5 cloves of garlic, finely chopped
2 tablespoons medium curry powder
3 tablespoons vegetable oil like canola
1 cup of lentils, rinsed
150ml coconut cream
30 – 40mls of freshly squeezed lemon juice
Chopped coriander leaves to garnish
Salt to taste
METHOD
In a large saucepan, heat the oil and fry onions for 3-4 minutes. Toss the garlic and curry powder in and continue frying for a further 30 seconds. Add the lentils and root vegetables. Fry to combine everything well, so the vegetables are coated in the spices. Season with salt. Add 1.5 litres of water. Let it come up to the boil, cover with a lid and let simmer gently for 30 – 40 minutes. The vegetables should be soft and not offer resistance when pressed with a spoon. Rest for five minutes and blitz soup with a hand held stick blender.
Mix in the coconut cream and return saucepan to heat for five minutes until it is warmed through. Stir in the lemon juice. Sprinkle the coriander leaves and serve immediately. Serves 4-6.