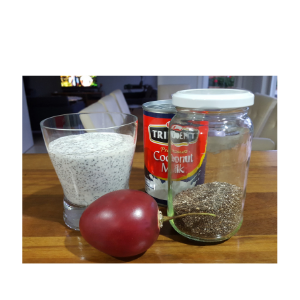 Chia seeds are rich in Omega 3 Fatty acids and antioxidants. A serving provides enough protein and because of their high fibre content keeps you full for longer. They also are a good source of iron and calcium. This is a quick and easy way to incorporate chia seeds into your eating. I normally serve for breakfast.
1 ½ cups coconut milk or soy milk
½ cup chia seeds
1 -2 tablespoons maple syrup or honey or jaggery (if using jaggery, grate and add a couple of tablespoons of hot water to melt)
1 teaspoon vanilla extract
Toasted almond flakes and berries or seasonal fruit to serve
I used tamarillo (tree tomato). Incidentally tamarillos regulate blood sugar levels and are rich in antioxidants. No resemblance to the tomato, but belongs to the same family. I blanched the tamarillo for about 45 seconds in hot water and peeled the skin.
METHOD
Mix the coconut milk or soy milk with chia seeds, maple syrup and vanilla extract in a large bowl. Once mixed thoroughly, pour into three or four bowls or old fashioned glasses. Place glasses in refrigerator to set overnight. This keeps in the refrigerator for three or four days. Put your fruit on top and sprinkle the toasted almonds and serve cold.