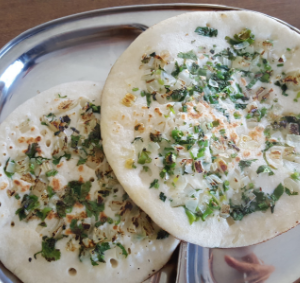 Another South Indian delight. These are very tasty, fluffy pancakes most often served for breakfast. Having said that it is available as "tiffin" in eateries particularly in the Southern part of India. In my years of trying to replicate uttappam, I found that the temperature in Wellington isn't warm enough for fermentation. You get softer uttappams when the batter ferments and that is why I add apple cider vinegar and soda and also warm the oven to 50 degrees!
¾ cup medium or short grain rice
¾ cup idli rawa (this is a coarse semolina like flour especially available in Indian stores)
1 plus ½ cup urad dhal
Salt to taste
1 tablespoon apple cider vinegar
½ teaspoon cooking soda
3 medium onions finely chopped
2 green chillies finely chopped
2 medium tomatoes deseeded and finely chopped
Handful coriander leaves finely chopped
10 teaspoons vegetable oil
METHOD
Wash and soak the medium grain rice, idli rawa and urad dhal in separate containers overnight or at least 8 hours. Put the urad dhal and rice in a food processor and grind to a fine batter. Add half a cup of water or as needed for the blades to be able to turn! I use a Nutri-ninja instead of a food processor. Remove the batter to a jar with a lid or a stainless steel container that has a lid. Squeeze the excess water from the soaked idli rawa and add to the rice, urad dhal batter. Mix in the vinegar, salt and cooking soda. Allow to rest /ferment overnight in a 50 degree oven. I like to turn on the oven to 50 degrees for the first four hours and then turn it off but still keeping in the oven overnight.
Give the batter a good mix when you are ready to make the pancakes. (The consistency should be of a slightly thick cake batter.) In a bowl mix the onions, green chillies, tomatoes and coriander leaves. Heat a flat pancake pan (tawa) that has a tight fitting lid. When the pan is hot enough, add a ladle full of the batter. Sprinkle a couple of spoons of the onion, green chilli, tomato and coriander leaves mix. Add a teaspoon of oil and cover with a lid. From time to time, you need to adjust the heat as you don't want the pan getting too hot. After three to four minutes, you may be ready to flip the uttappam. Cook the second side for a couple more minutes. Remove from pan and repeat with the remaining batter. Makes 10 uttappams. Serve hot with coconut chutney or tomato chutney.