My maternal grandmother (Ammamma) passed away when I was very young and I did not have the privilege to know her better. My mother talks of the food she used to prepare very fondly and this is one of my grandmother's recipe. You need tender baby cabbage the one that has almost soft, buttery leaves.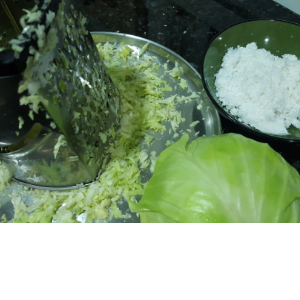 1 small tender, baby cabbage, washed and dried
100 grams grated coconut (I used frozen coconut)
1 thumb ginger finely chopped
2 green chillies (seeded and finely chopped)
1 shallot finely chopped
Juice from one lemon (about 30 ml)
2 tablespoons vegetable oil like canola
50 grams peanuts (handful)
1 teaspoon mustard seeds
1 teaspoon channa dhal (split chick pea)
1 dried red chilli
Pinch of asafoetida (optional)
Salt to taste Using a box grater, grate the cabbage. In a large bowl, mix the cabbage with the green chilli, ginger and shallot. Heat a tablespoon of oil in a small fry pan and fry the peanuts until golden brown. This needs to be done on low heat otherwise they burn and taste bitter without the crunch. Once fried, remove and set aside. Put the fry pan on heat again and add the remaining oil to prepare popu (seasoning). Add the channa dhal, followed by mustard seeds. When the channa dhal turns slightly brown, you can also hear the mustard seeds popping, add the red chilli and asafoetida if using. Remove heat as the residual heat is sufficient to fry off the asafoetida and chilli. Just before serving, add the popu (seasoning) along with peanuts to the cabbage mixture. Add salt, lemon juice and adjust seasoning to your taste. Serve immediately. Serves 8 -10.