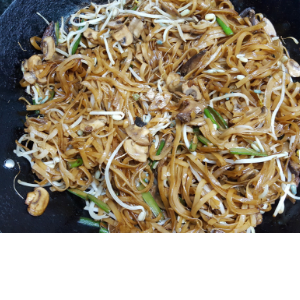 I love mushrooms and I am always experimenting ways in which to use them. This is a vegetarian version of noodle dishes made at the open food stalls in Hong Kong.
10 grams dried sliced shitake mushrooms
250 grams white mushrooms
100 grams of garlic shoots or Chinese chives
375 grams of rice sticks (medium sized rice noodles)
4 tablespoons vegetable oil
2 garlic cloves sliced
4 teaspoons light soy sauce
½ teaspoon dark soy sauce
½ teaspoon ground white pepper
200 grams bean sprouts
Salt to taste
Soak the dried mushrooms in hot water from the kettle for at least 30 minutes. Slice the white mushrooms as thin as you can. Cut the garlic shoots into 5 centimetre pieces and if they are too thick split them lengthways. Cover the rice sticks in warm water from the tap, leave for a few minutes, and then use your fingers to separate them. Shake dry in a colander.
Heat half the oil in a large wok over a high flame Add the shitake mushrooms and garlic. Fry until the smell of garlic is evident. Then add the other mushrooms and garlic shoots and fry over a medium heat for a further 2 minutes. Add a dash of the dark soy sauce so mushrooms get a rich colour. Remove and set aside.
Heat the remaining oil on high heat and add the rice sticks. Fry until the rice sticks are hot. Add the light and remaining dark soy sauce. Sprinkle the white pepper and salt, then fry to combine. Return the mushrooms and garlic shoots along with the bean sprouts to the wok, stir fry until everything is piping hot. Serve immediately. Serves 4 as a main at lunch.