A little tangy, a little spicy and a little sweet is how I would describe a prawn sambal. The ready to use sambal pastes you get in the supermarket are a bland version of this Malaysian dish packed with punchy flavours. The recipe is straightforward and because the prawns don't need a whole lot of time to cook, the dish comes together in 45 minutes.
INGREDIENTS
For the sambal paste
30g tamarind pulp or 2 tablespoons tamarind puree
10 shallots
6-10 red chillies
5-6 (30g) garlic cloves
100ml neutral oil
60g palm sugar or dark brown sugar
Sea salt
To complete the dish
500g prawns, (preferably large and shelled)
150g onions, sliced thinly
30ml peanut oil or sesame oil
Spring onions, green portion for garnish
METHOD
If using tamarind pulp, soak in hot water for half an hour. Extract pulp and set aside.
Combine shallots, red chillies and garlic in a food processor and make a rough paste.
Heat oil and fry paste for 10 -15 minutes.
Finally add palm sugar, salt and tamarind paste and cook for 10-15 minutes.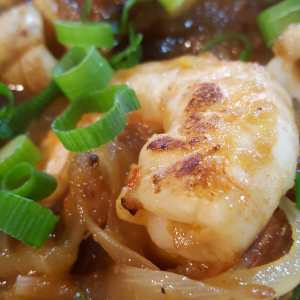 Toss the prawns in one tablespoon of whichever oil you are using. Sprinkle some salt, mix and set aside for a few minutes. Preheat your wok to smoking hot and throw in the prawns a few at a time and cook for a minute so they are slightly caramelized. Remove and set aside.
Heat the remaining peanut or sesame oil and fry sliced onions until soft and pale brown (about ten minutes). Reintroduce the prawns and continue frying for a minute. Add half the sambal paste (you can freeze the other half for another time) and continue cooking for a further 2-3 minutes.
Serve hot garnished with the spring onions with steamed rice.
Cook's note: The sauce is very flavourful and on the hotter side, so the dish does not have to be covered in the sauce.