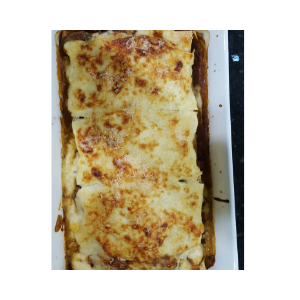 Our household loves my lasagne. Over the years I have done several variations and this vegetarian version using winter vegetables is a big hit. Please don't be alarmed by all the ingredients – it is relatively easy to make and I urge you to give it a try.
500 grams butternut squash peeled and cut into 3 centimetre cubes
3 leeks thoroughly washed and cut into 2 centimetre rounds
500 grams mushrooms sliced
1 large onion finely chopped
2 sticks celery, peeled and finely chopped
1 x 400 grams can of brown lentils drained and rinsed
6 plump garlic cloves finely diced
2 x 400 grams tin of plum tomatoes
½ to 1 teaspoon red hot chilli flakes
1 teaspoon dried oregano
6 to 7 tablespoons extra virgin olive oil
4 cups of milk
4 tablespoons of plain flour
Salt and pepper
Pinch of freshly grated nutmeg (optional)
50 grams of butter evenly cubed
10 grams of butter evenly cubed
50 grams of Parmigiano Reggiano microplaned
400 grams of fresh lasagne sheets
METHOD
Heat a large, heavy bottomed fry pan and once sufficiently hot add a tablespoon of extra virgin olive oil. Add the butternut pieces (a few at a time so as not to crowd the pan) and roast them until nicely caramelized on the sides. This is important as it gives a sweetness. Repeat until all butternut is roasted this way. Set aside. Repeat the same process for the leek rounds and then the mushrooms.
To make the sauce: Once the vegetables are pan roasted, add some more oil and fry the onions, celery and garlic for about 5-6 minutes. They should look soft and translucent. Squash up the tomatoes and juice and add this to the onion mixture. Add the oregano, chilli flakes, salt and pepper. Give it a good stir and simmer gently for about 10 minutes. If you feel the sauce is getting too thick, add about half a cup of water. Then add the lentils and continue simmering for a further 10 minutes. Once done cover with lid until needed.
To make the béchamel sauce: Heat up the milk in a measuring cup and have it ready. Heat a saucepan and add the 50 grams of butter. When butter is melted, add the plain flour and mix continuously so the flour and milk are incorporated. Add salt and pepper to taste, reduce heat to lowest setting and start adding the milk little at a time while stirring continuously ensuring that milk is incorporated into the butter flour mixture. Continue until all milk is used up. If you don't mix continuously, you will have a very lumpy béchamel sauce. Continue stirring and you will know that the sauce is ready to be used when it coats the back of your spoon. Remove from heat but keep warm.
In a deep baking dish (26 centimetres by 18 centimetres and 10 centimetres deep) start assembling the lasagne. Spread a layer of béchamel sauce and then the lasagne sheet. Follow this with a layer of the sauce followed by the vegetables and the béchamel sauce. Repeat until all the lasagne sheets, vegetables and sauces are used up. Remember you have to finish with a topping of béchamel sauce. Sprinkle the Parmigiano Reggiano. Dot the 10 grams of butter and place the dish in a pre-heated moderate oven (180 degrees Celsius) for about 40 minutes or until golden. Once cooked allow to rest for 30-40 minutes before serving with a fresh Cos lettuce salad. ( I normally just cut up the Cos or Romaine lettuce to bite size pieces and toss with lemon flavoured olive oil and squeeze a few drops of fresh lemon for a bit of zing just before serving). Serves four generously.