Phanaeng or Phanang or Panang is a type of Thai red curry that is a little sweet, salty and nutty. It is generally made with meat but my version is a vegan one. I used soy sauce instead of fish sauce. This is great served with sticky rice and a side of greens.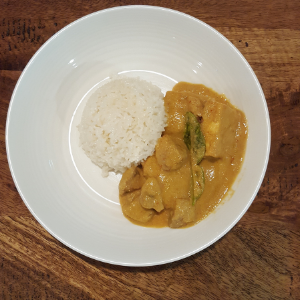 INGREDIENTS
600ml coconut milk
500g extra firm tofu
350g mushrooms
2 teaspoons brown sugar
2 tablespoons light soy sauce
3 Kaffir lime leaves
Thai basil leaves for garnish
3 tablespoons chickpea flour
¼ teaspoon chilli powder
3 tablespoons sunflower oil
For the curry paste
10 dried long red chillies
¼ cup roasted peanuts
60g shallots, chopped
6-7 plump garlic cloves
7cm piece of galangal, peeled and chopped
1 tablespoons chopped lemon grass
3-4 roots of coriander plant, washed well and chopped
1 tablespoon coriander seeds
1 teaspoon cumin seeds
1 teaspoon salt
METHOD
Wipe the tofu. Wrap in kitchen towel and weigh tofu down for half an hour.
Remove seeds for half the chillies, rinse in tap water and soak in water from hot kettle for half an hour. In another bowl, soak the peanuts in hot water from the kettle for half an hour. Put all ingredients for curry paste into a food processor and blitz to a fine paste. Add a few tablespoons of water as needed.
Cut tofu into large squares. Wipe any dust off the mushrooms and if large cut into halves or quarters.
Heat oil in a non-stick fry pan. Mix the chick pea flour with chilli powder and use a little water to make a slurry. Dip the tofu in this batter and fry in the oil a few at a time until golden brown. Remove and set aside. In the same pan, fry the mushrooms with the leftover oil. Season with salt and fry for a few minutes. Once cooked remove to a bowl and set aside.
Pour the coconut milk into the same fry pan. Mix the curry paste well and gently bring it a simmer. Let it bubble gently for 10 minutes. Add brown sugar, soy sauce and crushed lime leaves. Taste and adjust seasoning. Spoon in the fried tofu and mushrooms. Let it all heat through. Garnish with Thai basil and serve hot with rice.
Serves 4-6