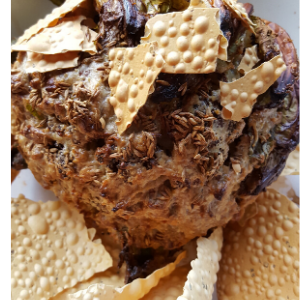 This makes an excellent accompaniment to slightly spiced roast meats or a fish meal or as part of a vegetarian / vegan spread. Choose compact small head with slightly tender outer leaves.
INGREDIENTS
1 cauliflower about (500 grams)
80 grams cashew pieces (soaked for half an hour in hot water)
5 centimetres ginger, chopped
3 garlic cloves, chopped
1 green chilli, chopped
2 tablespoons rice flour
1 tablespoon vegetable oil
1 tablespoon ghee or coconut oil (for vegan option)
1 teaspoon cumin seeds
Salt and freshly ground pepper to taste
2 large pappads, for serving
METHOD
PREPARE THE CAULIFLOWER
Remove the tough outer stalks and leaves (any that are damaged or withered). Wash well. Fill a deep soup pot (something that can hold the cauliflower fully immersed) with water, add a teaspoon of salt and bring it to a boil. Gently tip the cauliflower in and par cook the cauliflower for 3 minutes (put the cauliflower stalk side down). Remove and set aside for the water to drain completely. The cauliflower needs to be dry for roasting.
SPICE PASTE
In a small spice blender, blend the cashew pieces, ginger, garlic, green chilli, rice flour and salt to a fine paste. If you need to add a couple of spoons of water, do so but you don't want the paste too runny. You should still be able to smear the spice blend on the cauliflower.
Preheat oven to 200 degrees Celsius.
ROASTING
Smear the spice blend onto the cauliflower including the leaf joints. Spoon the tablespoon of oil as evenly possible onto the cauliflower. Place the prepared cauliflower onto a small deep baking tray with walls. Roast in the oven for 40 – 45 minutes, checking once in a while to ensure even roasting. While the cauliflower in cooking, put the pappads on the oven racks for 45 seconds on each side. Once they are cool, they will turn crispy. Set aside.
When cauliflower is cooked through and roasted well, remove and rest in a serving dish.
PREPARE THE POPU
Meanwhile prepare the cumin seed popu. In the smallest fry pan or saucepan you have, heat the coconut oil or ghee. Add the cumin seeds and fry allowing them to crackle. Once the have opened up, pout the popu onto the cauliflower.
Break or crush the pappads and sprinkle them onto the cauliflower. Serves 4.