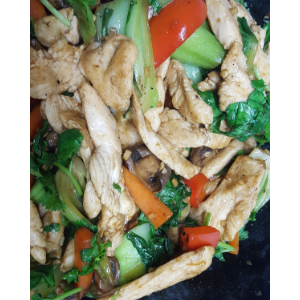 Ingredients
400 grams chicken breasts
2 medium sized carrots cut into batons
400 grams mushrooms (prepared) and quartered
1 large red pepper cut into 4-5 centimetre strips
1 bunch Shanghai green bok choy, washed well, stalks and leaves separated
3 cloves garlic thinly sliced
5 centimetres knob of ginger peeled and thinly sliced
1 fresh red chilli sliced
3 tablespoons vegetable oil
Coriander leaves for garnish
For the marinade
2 teaspoon salt
2 teaspoons potato starch
2 teaspoons Shaoxing wine
2 teaspoons light soy sauce
For the sauce
½ teaspoon brown sugar
1 teaspoon potato starch
2 teaspoon Shaoxing wine
4 teaspoons light soy sauce
1 teaspoon Chinkiang vinegar
1 tablespoon water
METHOD
I like to cut the chicken pieces for stir fry at an angle. Lay the chicken breast on a cutting board, have your knife at a 45o angle and cut strips of about ½ centimetre wide and 6-7 centimetres long. Place in a small bowl. Add the marinade ingredients and 4 teaspoons water and mix well. Combine all the sauce ingredients in a bowl.
Heat a tablespoon of the oil in a well-seasoned wok. Add half the chicken pieces and stir fry briskly. When the pieces have separated and look 70 per cent cooked remove them to a bowl. Repeat with the other half of chicken pieces.
Heat the last tablespoon of oil and add the mushrooms along with carrots. Stir fry continuously and when the carrots begin to get colour on them, add the red peppers and the stalks of bok choy. Stir fry for a further minute and add the ginger, garlic, red chilli and also the bok choy leaves. Stir to mix after which you can add the chicken. Stir fry continuously and make a well in the centre of the wok. Give the sauce a stir and pour this into the well. Stir quickly as it thickens and coats your stir fry chicken and vegetables. Garnish with coriander leaves. Serve immediately with hot rice. Serves 4
Cooking Tips:
Keep the flame or heat on high. It is a great idea to have all your ingredients ready before starting the cooking process. Choose only 3-4 varieties of colourful vegetables as they add colour and texture to the end result.