I love brassicas and always look for new and innovative ways to feature them front and centre as opposed to relegating them to a mere side dish. My creamy broccoli and kale soup is wholesome enough to be served on its own for lunch. This soup is vegan and the creaminess comes from the haricot / cannellini beans. The preserved lemon adds a refreshing, lemony flavour.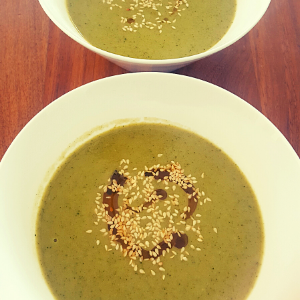 INGREDIENTS
500g broccoli (1 medium sized head), cut into small florets, stem and all
100g kale, remove the rib and cut
150g onion, chopped
100g boiled potato, diced
6 plump garlic cloves, peeled and crushed
1 green chilli, sliced
4 tablespoons extra virgin olive oil
2 tablespoons tahini
750ml vegetable stock
1 x 400g tin of cannellini beans
½ a preserved lemon (discard seeds and chop)
Salt to taste
For garnishing:
2 teaspoons sesame oil
2 teaspoons toasted sesame seeds
METHOD
Heat the olive oil in a largish saucepan. Throw in the crushed garlic and green chilli. Fry for a minute and add the onions. Continue frying for three minutes. Add the potato and the tin of beans along with the liquid. Pour the stock in along with 500ml water and let it come up to the boil. Mix in the preserved lemon, tahini and kale. Cook for 3 minutes.
Toss in the broccoli. Once the soup comes up to the boil, cook for a further 3 minutes. Season with salt. Blitz the soup using an immersion or stick blender.
Spoon the serve into four bowls (if serving as a main or six bowls as starter). Drizzle a few drops of the sesame oil and sprinkle sesame seeds.
Serves 4-6